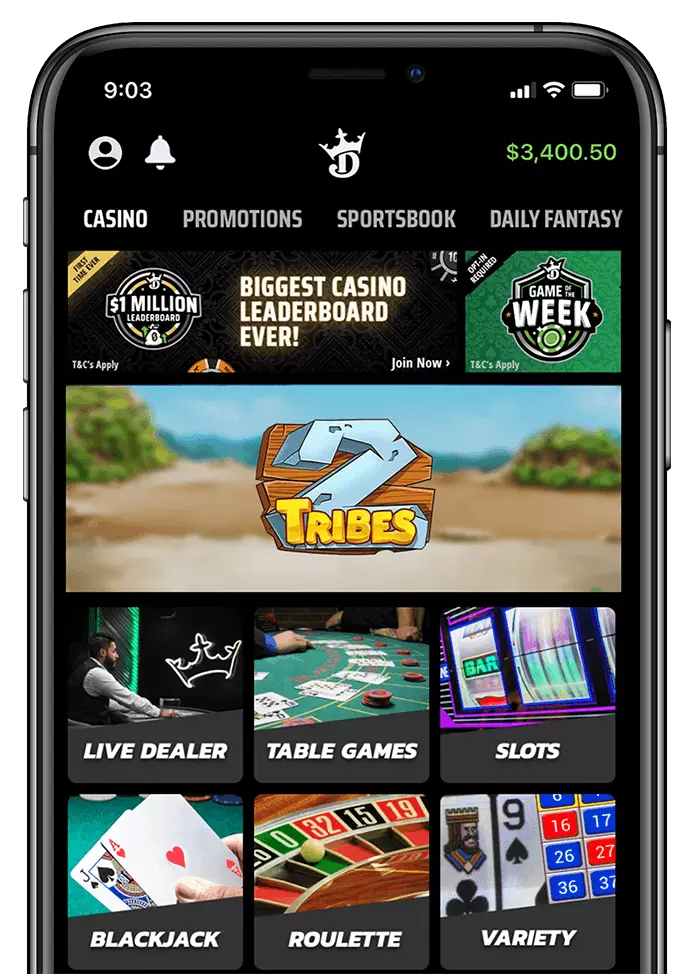 Play Online Slots with
DraftKings Casino
New customers choose between a deposit match up to $2,000 in Bonus Funds or a deposit match up to $100 in Casino Credits when you deposit $5 or more.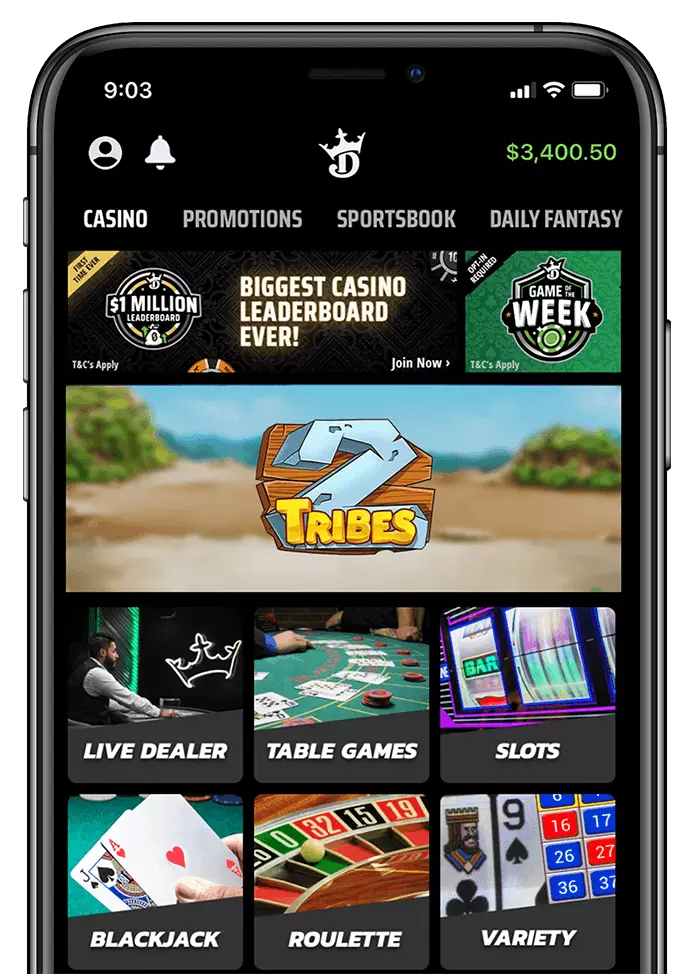 Play Online Slots with
DraftKings Casino
New customers choose between a deposit match up to $2,000 in Bonus Funds or a deposit match up to $100 in Casino Credits when you deposit $5 or more.
About DraftKings Slots
The leader in sports entertainment tech has another all-star on its roster. Meet DraftKings Slots, where you can play a variety of classic slots. Anytime. Anywhere. It connects to your DraftKings account, and we're adding new slots all the time.
Why DraftKings Casino?
EASY TO PLAY
Playing casino games from your mobile device has never been easier, or more fun.
NEW GAMES
New games will be launching all the time, so your playing options will never get stale.
SAFE AND SECURE
With our trusted platform, you can rest easy that your account is safe and secure.
ONE LOGIN
One login grants you access to our Daily Fantasy Sports, Sportsbook, and Casino products.
EXCLUSIVE GAMES
Play your favorite games such as Blackjack and Roulette powered by DraftKings Casino. You won't find these games anywhere else.
Welcome to game time, all the time.
DraftKings Casino games offer all the fun of the casino floor in the palm of your hand. Play a full roster of top online casino games from your Android or iOS Device anywhere online gambling is legal and DraftKings Casino is live. Getting started is easy — it just takes a few clicks to get in on the action.
1
Download the DraftKings Casino app.
2
Sign up or sign in with your DraftKings account.
3
Play our full deck of top casino games like blackjack. roulette, live dealer, video poker, slots and more.
Play Online Slots on DraftKings — Here's How
Traditional and online casinos are filled with games that are fun, exciting, and entertaining for everyone. If you've never played online casino games before, slots are a wonderful place to begin. On DraftKings, you'll find free online slots to get you started, or you can choose to wager as little as a penny — yes, just one cent! — when you decide to play slots for real money. With these options, and with a few slot basics, the true beginner can learn how to play slots.
What are slots?
Traditional slot machines are straightforward, and many of the slots online mimic those first three-reel games you can still find in casinos today. Playing online slot machines is as easy as clicking the button on your mouse or touching your mobile screen to get the reels spinning.
What do you need to know to play slots?
The first thing you need to know in order to learn how to play online slots — and get the most out of it — is the basic terminology of slot gaming:
Reels. The reels are the vertical columns that spin when you hit the button.
Symbols. The symbols are the images on the reels that create winning combinations on the payline. Special symbols include the wild symbol, which can substitute for any other symbols in order to create a winning combination, and scatter symbols, or trigger symbols, which can trigger a win and/or activate a bonus — no matter where on the reels it shows up.
Payline. The payline is a virtual line containing the combination of images that determine whether or not you have a winning spin. Paylines are read from left to right, and the symbols have to be next to each other along the line to be counted as a win. Depending on the game, a virtual slot machine can have one payline or multiple paylines.
Paytable. Each online slot machine has some symbols that are "worth" more than others — the type of symbol determines how much you win, depending on how much you wager. Every online slot game has a paytable that tells you the value and function of each symbol as well as the rules of the game. Different slot games have their own rules as well as different symbols with different values.
How do online slots work?
Typically, online slot games have three to five reels, and each reel contains three to five symbols. When you hit the spin button on an online slot machine, the reels spin for a short period of time, then stop. If three or more of the same symbols line up along the payline, you win!
Online slot games use a random number generator (RNG) to determine where the symbols line up once the reels stop spinning. This makes it impossible to guess which symbols might end up along the payline. Online casinos that are fully licensed — like DraftKings — use RNG software that's regulated by gaming regulators to ensure the slot machines are truly random.
How does betting work for online slots?
Many gaming fans are happy playing free online slots and never get a hankering to put money on their spins. Before you start betting on slots, play for free until you're comfortable with the game. When you're ready to wager, create a DraftKings account — we'll automatically enroll you in the Dynasty Rewards Program to earn redeemable crowns and get access to exclusive offers and promotions.
To bet on online slots, you wager a certain amount of money on each payline. If you wager on multiple paylines, and you get a match on just one of them, you only win the payout for the bet you made on the winning line — not the whole wager amount.
Players are typically prompted to indicate how many coins they want to bet on each spin — the number of coins you can bet varies widely based on the game, the number of paylines, and other features.
How much can you win playing online slots?
The winning potential for real money slots depends on a number of factors, including the amount of money you wager, the value of the game's symbols, how many paylines a game has, and what other features the game offers. But the two most important variables that determine how much you can win are the return to payer rate and the volatility, or variance, of a slot.
Return to payer rate. The return to payer rate, or RTP, of an online slot game tells you how much of an edge the "house" has over the player and how much you might expect to win from slots over an extended period of time. The longer you play, the more likely your winnings will be in line with the RTP. The higher the RTP, the better your chances of minimizing losses over time. It's a good idea to avoid online casinos and slot games that don't make the RTP public and easy to find.
Volatility. The volatility of an online slot game, also known as its variance, is either low, medium, or high. A low-volatility machine typically offers regular small wins and occasional bigger wins. A high-volatility slot game offers fewer — but considerably bigger — wins than a low-volatility machine. A medium-variance slot game is somewhere between the two.
The mathematics and probabilities behind all online casino games, including slots, is such that the online casino always has an edge over the player over the long-term, even though online slots are completely random. Sometimes you win, sometimes you lose — but over the long-term, the house always wins.
What kind of online slots strategy is best for me?
Playing slots for real money can be as easy or complex as you want it to be. Every slot machine is completely unique in terms of the variables that determine its payout. You can either sit back and place your bets without thinking too hard about it, or you can explore different strategies that align with certain goals.
If you want to try for big wins, you might try to play on a machine with a high RTP and high volatility.
If your end-game is to enjoy more small wins, try a slots strategy that involves a low-volatility machine and a low RTP, and bet smaller amounts.
If your online slots goal is to simply have a ton of fun, your slots strategy can be to explore the huge variety of online slot machines out there. DraftKings offers more than 600 slot games, and we're adding more all the time.
Whether or not you decide to use a slots strategy, our priority is to make sure that you enjoy online slots safely and responsibly. It is important to remember that you should only bet what you can afford and to set reasonable limits for yourself.
How to pick the right online slot game for you
If you're brand-new to online slots, you might find the sheer number of options a little overwhelming. We suggest you just pick a theme you like, and roll with it. You'll find slot games with themes ranging from Ancient Egypt to the Old West, from treasure hunting to disco dancing, and from cats to candy. Start by playing the game in demo mode to see how you like it before you start betting real money on it. You'll also find free online slots that don't involve any betting at all.
The simpler the slot game, the easier it will be for a beginner to pick up. As you get familiar with playing slots and explore the various features of online slot games, you can progress to games with more bells and whistles — and more opportunities for winning.
More advanced online slot machines offer multiple ways to win on each spin and include exciting features that keep things interesting — like progressive jackpots, bonus rounds, free spins, and Wheel of Fortune-type spins for prizes. Some even have embedded mini-video games, dice-rolling games, match games, and other special rounds that are typically activated by scatter symbols or specific combinations of symbols.
Play online slots for real money today
For some game enthusiasts who play online slots, real money is at stake, and that adds to the excitement of the game. For others, playing free online slots is a great way to relax and have a little fun — no purse strings attached! Whatever camp you fall into, approach online slots as a form of entertainment rather than as a money-maker. Set a budget, have a blast — and enjoy the occasional exciting windfall!