The Best of Both Worlds: Playing Casino Games with Live Dealer
The Best of Both Worlds: Playing Casino Games with Live Dealer
Playing Casino Games With Live Dealer
Until you try them, playing live dealer games online might seem alien.
We all instinctively draw a sharp line between digital and real life experiences. While walking that line may not seem comfortable, DraftKings' Live Dealer tables give the user the best of both worlds; the comfort of online casino games combined with the security and interactivity of the brick-and-mortar alternative.
This article will give you a chance to understand what live dealer is and what its benefits are, so you can feel secure while you play.
What Is Live Dealer?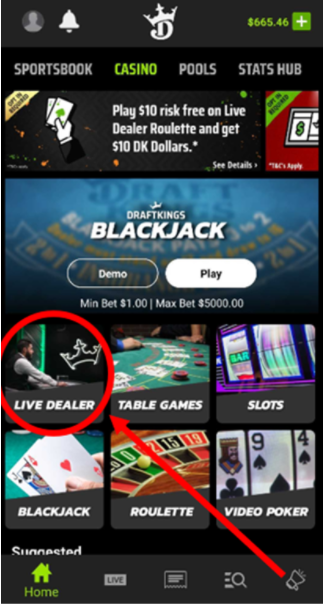 It's exactly what it sounds like. You're connected by live camera feed to a real, live, human dealer of the casino game of your choice. If you'd like, you can chat with them and watch them deal in real time on a table in a real game studio.
To access these live dealer tables, you merely click the "Live Dealer" tab on the left panel of the DraftKings Casino Lobby, at which point you'll be offered an option of Baccarat, Blackjack, Roulette, Video Poker, Game Shows, Infinite Blackjack or DraftKings Exclusives. From there, you can go wherever you want. The possibilities are more or less endless.
Not Your Local Casino
There are a lot of things to love about the brick-and-mortar casino experience, but there some parts the online version just does better:
There's no commute. No weighing in the drive home, no wiped out buddies telling you they want to leave before you're ready.
Wear what you want, sit where you want, eat or drink what you want. You will never need to wait for a seat. DraftKings Live Dealer tables offer an unlimited number of seats.
With the unlimited space of the online world comes unlimited space for assorted games. Speed Bac, Speed Roulette, Hold Em...the live casino seldom has the table space to dedicate to the games that suit your more particular tastes. That's never going to be a problem here!
Most casino tables eventually close. DraftKings' tables are open 24 hours a day, 365 days a year. Your betting options aren't limited to high minimums or fixed rates. Live Dealer table minimums go as low as $0.10 and as high as $500.
Our blackjack high-rollers can request the Crown Suite, an exclusive, single-player table we created when we heard the kind of complaints you'll hear at the live casino about a questionable mathematical play ruining the game for the rest of the table.
More Than Your Typical Online Game
You may love playing casino games online and if you do, DraftKings Lobby has you more than covered. If you enjoy the live casino experience but aren't big on online casinos, though? We can give you a few reasons Live Dealer might be a different story:
A REAL LIVE DEALER...
Live Dealer offers a human element and it's more than the comfort of looking a human dealer in the eyes, if that's how you choose to play The DraftKings Casino lobby is DraftKings-exclusive. Most live dealer products are operated by third parties who bring together players from multiple sites. We don't sell access externally; that means every person you sit down with is someone you can compare daily fantasy notes, thoughts or even tips with while you play.
Every other player at your DraftKings Live Dealer table is a potential connection and you can feel free to chat about the hand you're playing, your picks for that day's NFL, NBA or MLB slate or anything in between and you can always agree to meet again and keep trading info. At DraftKings, you can connect with that smart NFL guy you played with the other day or your best friend.
Either way, you can both chat with the dealer, chat with one another or do both, and that's an experience the traditional online casino just can't duplicate. It's a chance to be a part of a growing community.
MORE THAN A FEW MOUSE CLICKS...
Many players are happy with the ease of getting through a hand or spin or roll by clicking the mouse a few times, but that may not be you. If you want more of an experience than the direct path to an adrenaline rush the usual virtual experience provides, Live Dealer provides a lot more nuance. You see the action, you hear the action. Click here to learn how to play live dealer casino games.
YOU CAN TRUST YOUR EYES..
We operate legally and within the guidelines offered by assorted regulatory bodies to demonstrate that. Games can always be trusted, because that keeps the experience fun for you. (To learn more about the standards we uphold in order to keep the game fair and fun, click here).
We also know that some people only feel secure in trusting what they can see and we don't want your enjoyment to be limited by that. In part, we provide Live Dealer because we want you to have the comfort that comes with being in a secure environment. We're happy to do what needs to be done to give you the experience you know you can trust. You'll see every element of every result play out.
Even the most cynical player will know they can trust the game. When you can trust the game, you can relax and enjoy it. We're confident that with DraftKings' Live Dealer tables, you're ready to do just that.
Authored By: Gary Wise

Gambling Advice & Strategy Articles
Check out our casino blog for all the tips, tricks and strategies you need to take your gameplay to the next level.
Gambling Advice & Strategy Articles
Check out our casino blog for all the tips, tricks and strategies you need to take your gameplay to the next level.