how to play Hippie chicks
how to play Hippie chicks
Hippie Chicks is a 60s themed slots game featuring all the unique sites and sounds expected from the hippie theme with teepee tents and peace flags flying about.  As the hip chickens keep you company while spinning, the bountiful bonuses that can be won are what will keep you feeling at peace.  With 20 fixed paylines and bonuses like Power to the Reels or Give Scatters a Chance, Hippie Chicks is a game that can suit any slot player from beginner to expert, and everywhere in between.  Here's a quick video to show you the basics of the 60s style slots so you feel ready to spin.
Game Objective
The objective of Hippie Chicks is no different from other slots, but made even simpler.  Spin the reels with the goal of forming one of the game's 20 paylines or one of the game's exciting bonuses.  Most of DraftKings slots games will have 20 paylines possible, but Hippie Chicks' 20 paylines are fixed, meaning that they cannot be changed.  Each time you spin the reels, the only decision that needs to be made is how much you would like to bet on each line, rather than how many lines will be bet on.  Depending on which of Hippie Chicks' 11 symbols complete a payline, different payouts will follow.
If none of this sounds familiar to you, we suggest you check out How to Play Online Slots, the beginner's guide to Online Slots.  This guide provides a great foundation for anyone looking to get into slots like Hippie Chicks.
How to Play
This is where Hippie Chicks' simplicity comes into play.  With 20 fixed paylines, the first choice when playing Hippie Chicks is how much you want to bet per line.  Your bet per line will then be multiplied by the 20 fixed paylines, giving you the Total Bet that will be placed on each spin.  For example, if you are looking to bet $0.05 per line, your total bet would be 20 paylines x $0.05 = $1.00 per spin.  Easy enough, right?
After setting your bet per line, your Total Bet will appear next to your Total Credit, and you are ready to spin.  At this point, you can choose to use the large purple spin button or the Auto spin feature.  If you choose to use the regular spin button, press that to spin the reels and listen for the clucks as each reel stops.  
If you choose to use the Auto Spin feature, you have a few more choices to make before you can spin.  Autoplay options include number of plays and a loss limit.  You must choose the number of plays (spins in this case) that you would like performed using Auto Spin.  Then, the loss limit you choose is the dollar amount that if lost while auto spinning, will cease the auto spin and allow you to rethink your strategy.  You can always press stop spin while auto spinning to end the auto spin immediately.  
You should now know how to spin, but how do you find the luck of the cluck?
Peaceful Paylines
Hippie Chicks has 20 fixed paylines that are bet on each spin.  As you spin and the reels come to a stop, look for the same symbol to form one of these paylines so you can get paid out.
Hippie Chicks Symbols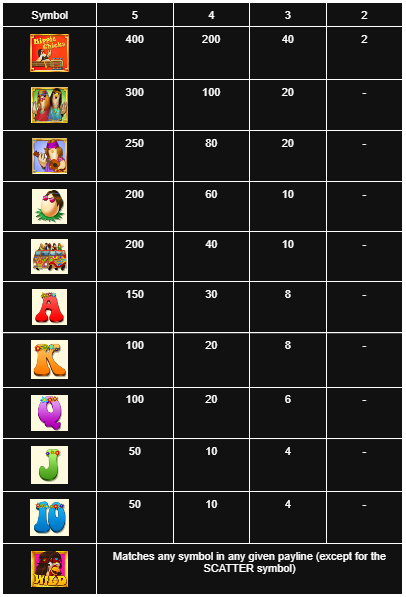 The soothing background of Hippie Chicks is what sets the scene for the soothing slots game, but the symbols on the reels are where the action is. Here are the 12 symbols you can expect to find when playing Hippie Chicks and the payout associated with each symbol.
The Reel Chicks Bonuses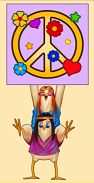 The Reel Chicks are quite literally a sign of peace.  Well, they are two chicks holding up a peace sign.  True indicators of luck of the cluck, if the Reel Chicks have the energy to stay up long enough they can award either the Power to the Reels or the Give Scatters a Chance reels modifier features!
Power to the Reels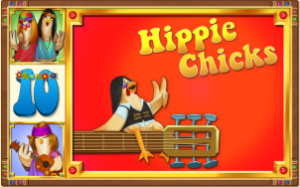 Power to the Reels is the first type of bonus that the Reel Chicks can give way to.  Hippies have always worked to give power to the people, so in this game they can give power to the reels.  It is also known as Mystery Colossal Symbols, for reasons that will soon be obvious.  
The Reel Chicks use their positive energy to create a randomly enlarged symbol that is placed on the reels in a random position.  The Colossal Symbol itself can be any of the symbols available in the game including the Wild and Scatter symbols and can be 2x2, 3x3, 4x3 or 5x3 the size of a regular symbol!  Once the reels are stopped and the Colossal Symbol is in position, any wins using this symbol are paid out.  The image to the right gives you an idea of what we're talking about.
Give Scatters a Chance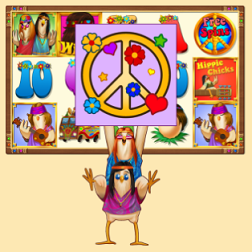 The second bonus that the Reel Chicks can unlock is Give Scatters a Chance, or enhances bonus trigger reels.  If the Reel Chicks have the energy to stay up long enough to unlock this bonus, they increase the possibility of triggering Free Spins by awarding additional Scatter symbols on every reel while they are spinning.
Free Spins
Free Spins are triggered by having 3 or more Scatter symbols appear anywhere in view on the reels, which is why Give Scatters a Chance can really sway your chances of triggering free spins.  In the case they are triggered, a random number between 6 to 200 free spins are awarded, with all wins in Free Spins paying according to the same bet per line as the triggering spin.  So what's so special about free spins other than them being free?  A Mystery Colossal Symbol of 2x2, 3x3, or 4x3 size is awarded on every Free Spin, making your free spins a freeing experience.
Is Hippie Chicks the Game for You?
The ease associated with playing Hippie Chicks makes it an easy one for those looking for a simple, quick game.  Games can last less than 3 seconds, with little to no time needed to make decisions in between.  This makes Hippie Chicks an easy way for someone to learn slots without getting too lost in the game's mechanics.  
Hippie Chicks also presents the soothing appearance of the 60s hippie movement, making it one of the more distinctively themed games at DraftKings!  If you're looking for a game that makes you feel at peace, Hippie Chicks might be a good place to start.  If you're easily entertained by a specially themed slots game, odds are Hippie Chicks is only one of many Online Slots at DraftKings that you would enjoy.
Keep on Cluckin'
The quick, exhilarating play and far out theme of Hippie Chicks makes the game easy for anyone to get with it.  The hippie movement was propelled by the Grateful Dead, whose famous line Keep on Truckin' inspired so many with positivity.  While we won't ask you to join an entire movement to play Hippie Chicks, we hope you feel ready to spin and inspired to Keep on Cluckin'.  
Gambling Advice & Strategy Articles
Check out our casino blog for all the tips, tricks and strategies you need to take your gameplay to the next level.
Gambling Advice & Strategy Articles
Check out our casino blog for all the tips, tricks and strategies you need to take your gameplay to the next level.