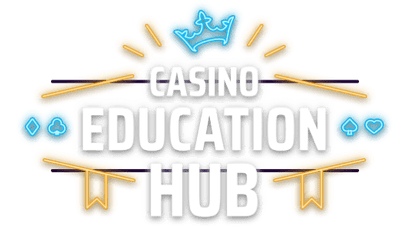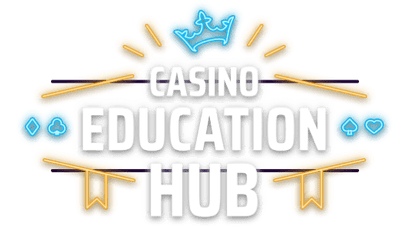 Spanish 21 is the most popular Blackjack variation and combines the action of Blackjack with the exciting payouts of a slot machine. In Spanish 21 there are multiple ways to win each time you play a hand! Spanish 21 is played with a "Spanish Deck" which means it contains only 48 cards and doesn't contain any of the "10" value cards.
Every other card remains and functions as it does in blackjack, including the Kings, Queens, and Jacks, which are still valued at 10. That's it. And for that small trade off, the player gets more ways to win bonus payouts that can pay out up to $5,000!
If you are familiar with blackjack you'll understand Spanish 21 quickly. If you need a refresher on the rules of regular blackjack, watch our How to Play Blackjack Video. Let's get down to business and explain why you'll want to play Spanish 21, which can only be found online at DraftKings Casino.
Game Features Worth Knowing
Bonus Payouts! Spanish 21 has a number of ways to earn bonuses and they are included in the game with no additional side wager required. They include:
Super Bonus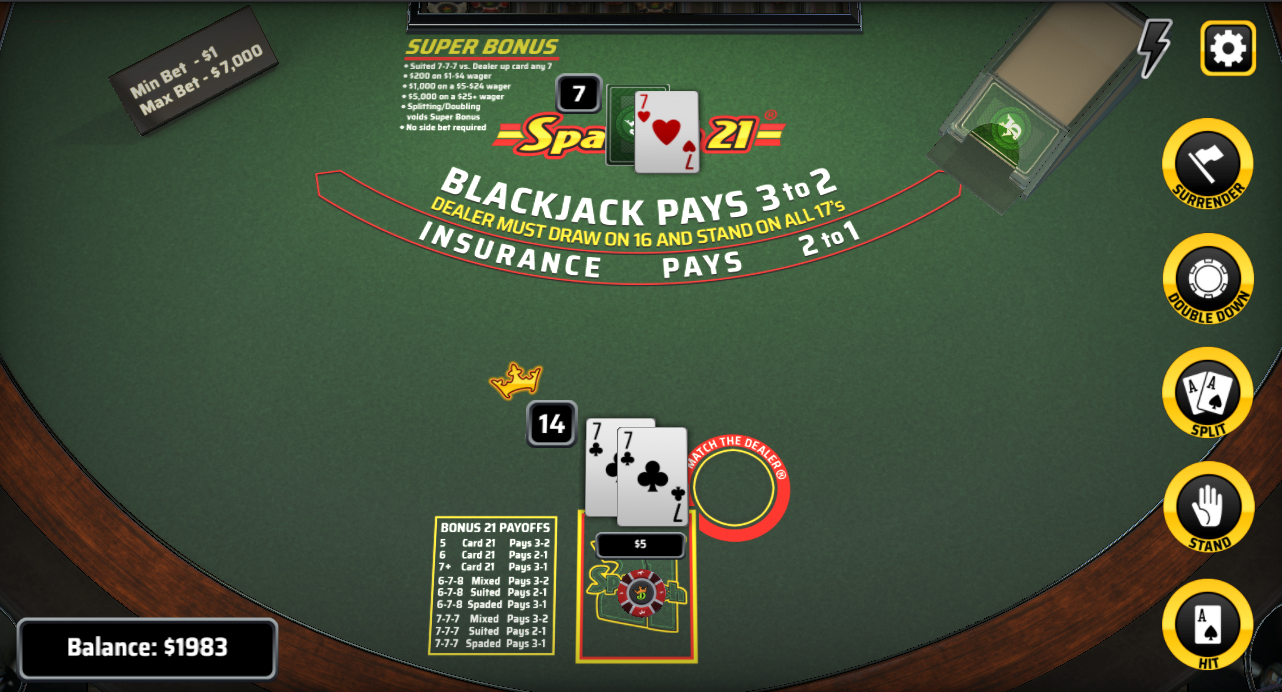 If a player holds any three same-suited 7s (7s-7s-7s for example) when the dealer's exposed card is also a 7, the player will win the Super Bonus of up to $5,000.
One 7 of clubs away from winning the Super Bonus!
The Super Bonus pays a fixed amount based on the size of your bet: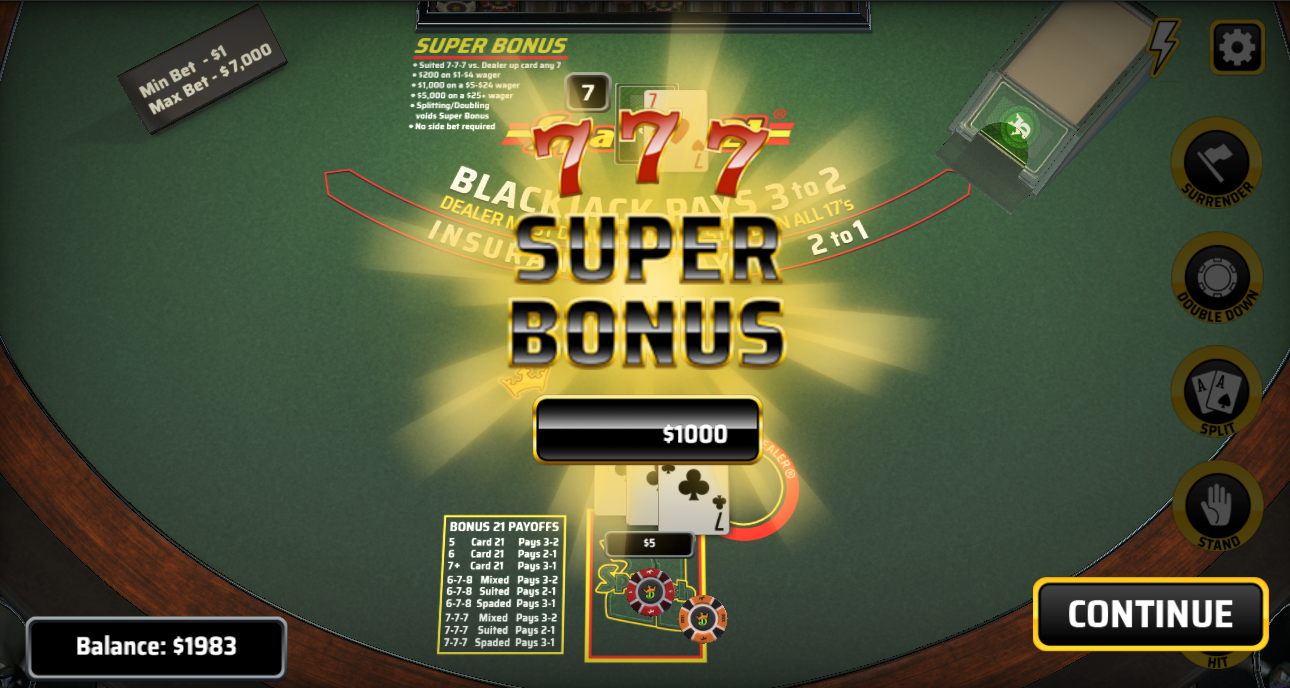 Super Bonus Pay Table*

7-7-7 Suited
$1-$4 Bet
WINS $200
7-7-7 Suited
$5–$24 Bet
WINS $1,000
7-7-7 Suited
$25+Bet
WINS $5,000
*Splitting or Doubling Down voids the Super Bonus.
Success! A $1,000 Super Bonus Winner
Bonus 21 Payoffs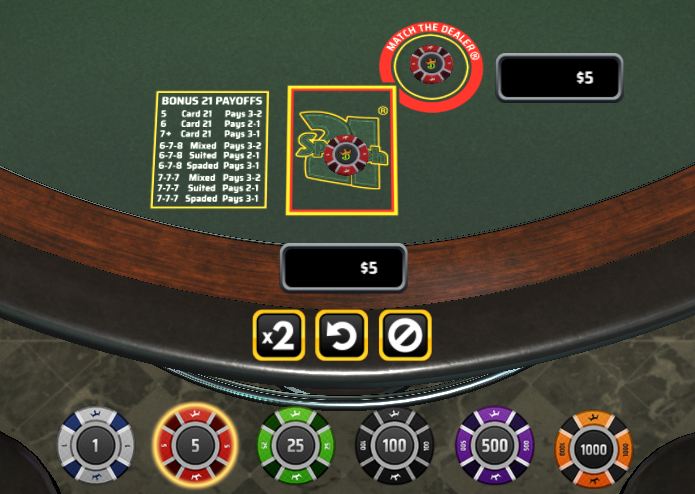 Continuing the theme of the Super Bonus, you'll win a payment bonus multiplier if you make 7-7-7 regardless of suits. You'll also win similar multipliers if you beat the dealer with a hand totaling 21 that contains 5 or more cards, or with the 21 combo of 6-7-8. Players can get paid up to 3 to 1 on their base wager and have a chance to win a payout in multiples on each hand they play.
BONUS 21 PAYOFFS*

7-7-7
Mixed Suits
3 to 2
7-7-7
Suited
2 to 1
7-7-7
Spaded
3 to 1
5
Card 21
Pays 3 to 2
6
Card 21
Pays 2 to 1
7+
Card 21
Pays 3 to 1
6-7-8
Mixed Suits
3 to 2
6-7-8
Suited
2 to 1
6-7-8
Spaded
3 to 1
*Doubling Down voids Bonus 21 Payoffs
You can find the bonus 21 payoff amounts next to your betting circle on the felt.
These bonuses are "paid when made" which means the dealer never has a chance to tie your hand or cause your wager to push. In fact, when you make any hand that totals 21, the dealer gives up and pays you on the spot. That's right, anytime you make 21 you automatically win!
Players Blackjacks Always Win
A Player blackjack will always beat a dealer's blackjack. Blackjacks are paid at odds of 3 to 2.
Players Total of 21 Always Win
A Player total of 21 will always win regardless of the content of the Dealer's hand. When the player makes 21 they will be automatically paid before the dealer draws any additional cards.
These two rules make Spanish 21 fun to play because you never have to worry about pushing with the dealer on 21.
Additional Deviations:
Pair Splitting
Players may split cards of equal value, including Aces, up to three times creating up to four hands. Doubling after a split is allowed as well as hitting and doubling of all split hands, including Aces.
Note: Splitting voids the Super Bonus.
So what does all this mean? It means you get the chance to split your aces, then hit those hands, or resplit if you get dealt another Ace!
Double Down
Double Down with 2 or more cards of any total and on any total including after splitting.
Note: Doubling voids Bonus 21 payouts and the Super Bonus.
A double down on a four card 11.
Doubling down on any total of 2 or more cards means players can hit their hand and if they land on 10 or 11, they will still have the option to double down. This game feature makes it easier to win extra bets as there are more chances to double your wager with a good hand.
Double Down Rescue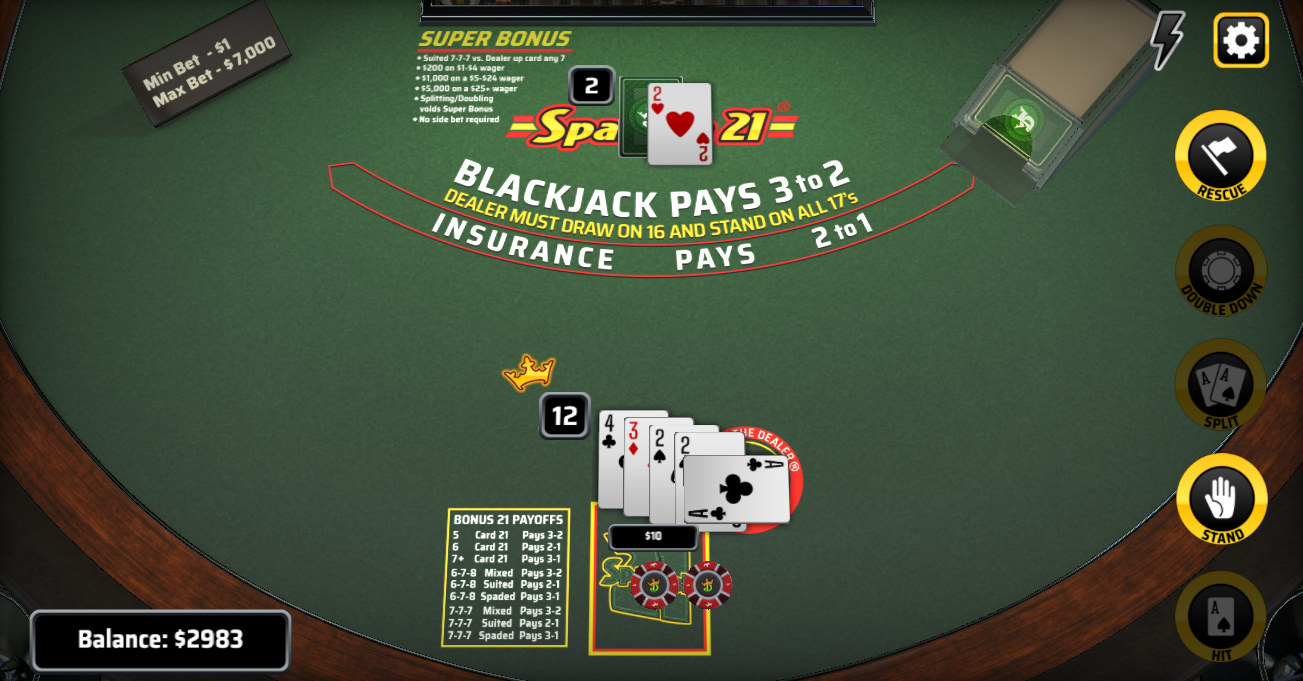 After doubling, if a player is dissatisfied with a non-busted hand, the player may rescue (take back) the doubled portion of the bet, and forfeit their original wager.
Nobody likes to talk about losing or making a bad hand but it does happen. After you double down you have the option to "rescue" half your bet and discontinue your play for the rest of the hand. Think of it as a safety net that allows you to double down more often and have an optional back up plan when things don't go the way you would like.
Surrender
A player may choose to discontinue play on their hand for the round by surrendering one-half of their initial wager. Surrender is only permitted on the first two cards and only available after the Dealer has checked for blackjack.
Insurance
Insurance is offered to the player when the dealer has an Ace as their exposed card. Since the dealer has the potential for having a blackjack, players are offered a side wager where they can buy insurance against the dealer having a blackjack. Insurance pays 2 to 1. If the player has a blackjack when the dealer has an Ace up, the player will still have the option to purchase insurance, even though their blackjack beat a dealer blackjack.
Side Wagers
Match the Dealer
Spanish 21 includes an optional side wager known as Match the Dealer. While playing the side wager is optional and doesn't affect the main game, there are lots of good reasons to give it a try.
Players may bet that either or both of their initial two cards will match the dealer's upcard. A player who has placed the base game wager may make an additional Match the Dealer wager.
Match the Dealer Payouts
1 Non-Suited Match
Pays 3 to 1
2 Non-Suited Matches
Pays 6 to 1
1 Suited Match
Pays 12 to 1
1 Suited and 1 Non-Suited Match
Pays 15 to 1
2 Suited Matches
Pays 24 to 1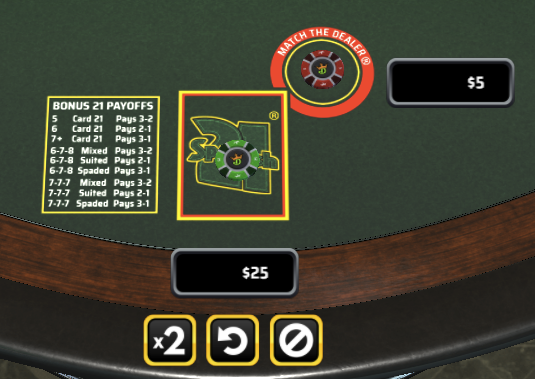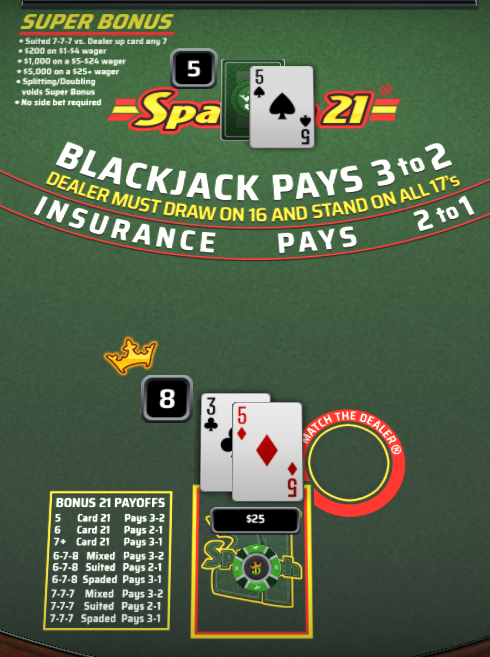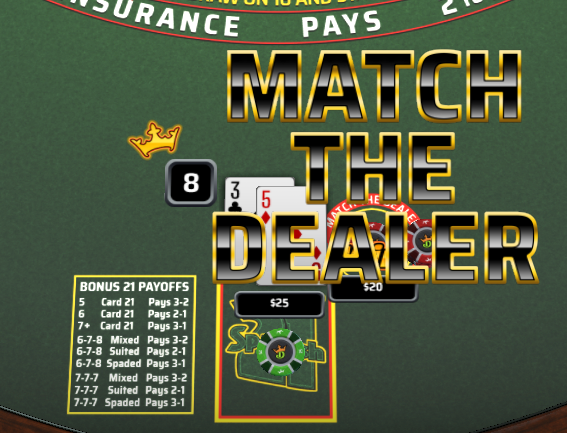 Tips and Hints
Just like in regular blackjack, your chance to win depends on the total of your hand and the final total of the dealer's hand. The worst up cards for the dealer are the 3-6. Players should look for opportunities to increase their wager when the dealer has a weak up card by taking advantage of the player-friendly splitting and double down rules offered in Spanish 21. And don't forget you have the option to double down on more cards than just the first two cards. You can rescue a double down wager after you see your double down card!
Look to take advantage of opportunities to double down on soft hands. Soft hands have multiple ways to improve and can be extremely advantageous and profitable when played correctly. The strategy charts for Spanish 21 are available in the pay table of the game - so if you aren't sure what to do, you can always look up the right play.
When hunting for bonus hands, remember that splitting and doubling can nullify your chance at winning a bonus. Splitting or doubling down voids the Super Bonus, and doubling down voids any Bonus 21 payouts. Remember these rules when deciding how to play your potential bonus eligible hands.
As in regular blackjack, you'll sometimes have to choose between two tough options. While it's never fun to bust and then find out that the dealer would have busted had you not drawn a card, you should never be afraid to take a card and make the right move. In the long run making the right play will deliver better long term results!
Now, you know how to play Spanish 21. As you can see, there are a ton of player favorable options that have made this the most popular blackjack variant over the last three decades. Now it's time to give it a try yourself.
Gambling Advice & Strategy Articles
Check out our casino blog for all the tips, tricks and strategies you need to take your gameplay to the next level.
Gambling Advice & Strategy Articles
Check out our casino blog for all the tips, tricks and strategies you need to take your gameplay to the next level.