Cleopatra is one of DraftKings' most popular slots with its majestic Ancient Egyptian setting and tiles filled with hieroglyphics and symbols.  While the intriguing theme sets the precedence for the slot, it's the bonuses that can be achieved while playing that make Cleopatra pure gold.  Between the scatter wins, bonus rounds, and exciting spin of symbols from one of the most glamorous human cultures, Cleopatra presents one of the most engaging experiences to be had when playing slots.  This video will get you on your way to being a pharaoh as you learn the ins and outs of Cleopatra.
By watching that video, you can start to see the roots of all the excitement surrounding Cleopatra.  The following explains the features of the gleaming slots game in depth so you know what to expect once you start to spin.
Game Objective
The objective of Cleopatra is to spin the reels in the hopes of forming a payline that you bet on before the spin.  Cleopatra features 20 different paylines that can be bet on with each spin.  You need at least three identical symbols to form a payline, with the Cleopatra symbol acting as a wild card to help complete paylines when possible.  Depending on what symbols complete your payline, different payouts will ensue.
If none of this sounds familiar to you, we suggest you brush up on How to Play Online Slots, the beginner's guide to online slots
How to Play
The first step to make when playing Cleopatra is to determine the number of paylines that you want to bet on.  This can be done by pressing the minus (-) or plus (+) beneath the reels where the game reads "Lines".  The next thing you need to do is determine your Line Bet.  Your Line Bet represents how much you are betting per line.  This amount can be changed by pressing the minus (-) or plus (+) beneath the reels where the game reads "Line Bet".  Once you have determined these numbers, the Total Bet will display.  This is the multiple of your Lines and Line Bet.  This number is how much you are going to be wagering on the following spin.  
Once ready to spin, pressing the orange circular arrow submits the bet and spins the reels as you begin the quest for Egyptian treasure.  
Cleopatra also features an Auto Spin feature that allows you to play a specified number of spins using the same bet.  Do this by setting the bet that you want to be repeated and pressing the blue circular arrow that indicates Auto Spin.  Press the Auto Spin button and select the number of spins that you would like to use your bet.  Once Auto Spin is being used, you can always stop the remaining spins by pressing the red square that appears where the Auto Spin button once was. 
*Auto Spin is only eligible in certain jurisdictions.
Paylines & Bonuses

The gold, jewelry, and glam that Cleopatra boasted in 51 B.C. is not far off from what makes the slot game that yields her name so popular in today's world.  Before getting into the exciting bonuses of the game, here are the 20 paylines that can be bet on each spin.
Cleopatra's Symbols

Cleopatra - The powerful pharaoh of Egypt. This symbol is the most fruitful of them all and can be used as a wild symbol to complete paylines.

Sphinx - This mythological creature was often worshiped by Egyptian rulers as a form of the sun god.  This is the only symbol that Cleopatra cannot substitute.  It also can unlock Scatter Wins which will be discussed later.
Scarab Beetle - This beetle symbolizes the cycle of life and in this game is the next best symbol appearing on the reels behind Cleopatra herself and the Sphinx.
Fan - The fan was a significant symbol in Ancient Egypt, often being used to worship royalty or protect from the sun.

Cartouche - This can be thought of as a shield of glory or a scroll.

Crook & Flare - The main symbol of authority, the crook & flare can also form a payline.

Eye of Horus - A representation of healing and protection, the eye of horus is the final Egyptian symbol found in Cleopatra that can form paylines.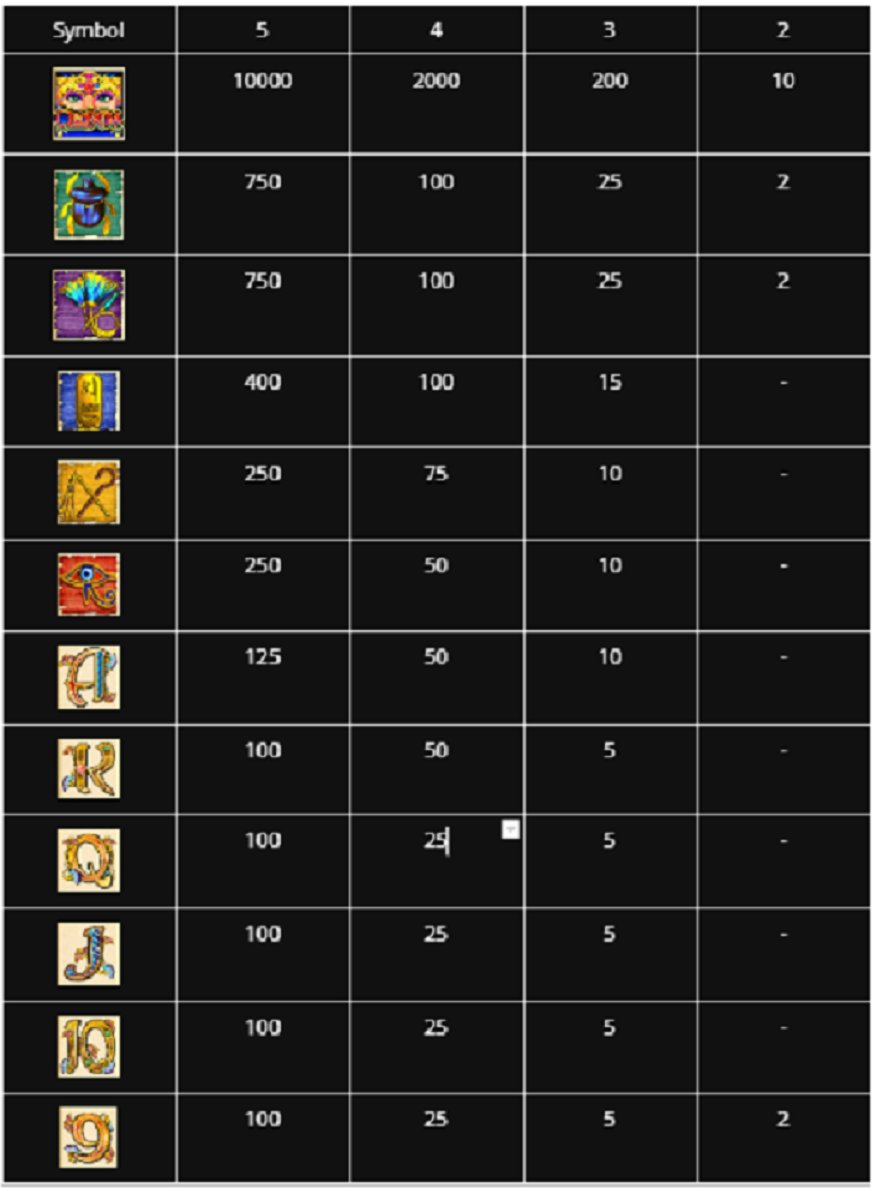 Twice as Nice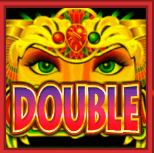 As mentioned above, the Cleopatra symbol can be used to complete paylines, acting as a wild symbol.  If a Cleopatra symbol falls along a payline that you bet on, the "Twice as Nice" animation will result, indicating that you win twice the original line bet!
Twice as Nice only gets better from here.  While there might not be a catchy name for completing a payline with 5 Cleopatra symbols, which royally pays out 10,000 times the line bet!
The Cleopatra Bonus
The Cleopatra Bonus is the game's centerpiece.  This bonus is triggered by 3, 4, or 5 Sphinx symbols on the board in any position.  This triggering spin unlocks 15 free spins with all wins being tripled during those spins (excluding 5 Cleopatra symbols)!  You can even trigger more bonus rounds within your 15 free spins, up to 180 free spins!
Scatter Wins are unlocked during the Cleopatra Bonus, with the Sphinx symbol becoming a major multiplier.  Here is a table that shows the payout structure for Scatter Wins:
Should I Play?
Whether you're a history buff or a slots aficionado, Cleopatra has something to offer for you.  20 simple paylines combined with the generous Cleopatra Bonus make for an exciting spin of the reels every time.  
If you're just a sucker for a nicely themed game, make sure to check if any of our Table Games are dressed up to fit your favorite sports team!  If themed slots are more of your thing, we hope you don't get too overwhelmed.  With hundreds of different Slots, there's a good chance that you'll find a few to satisfy your tastebuds. 
Take Me There!
DraftKings is constantly looking to provide forms of world class entertainment to its users.  Cleopatra is one of the main examples of that with its exciting play and constant action.  If you think you know enough to start spinning, find Cleopatra under Slots.  Remember that when playing you can always check the Paytable and Game Rules in the top right corner of your screen!  If you're looking to start your search for gold, get digging Here.
© 2022 IGT. Gambling problem? Call 1-800-GAMBLER (MI/NI/PA/WV) or 888-789-7777/visit ccpg.org/chat (CT). 21+. Available in CT/MI/NJ/PA/WV only. Eligibility restrictions apply. See draftkings.com/casino for full terms and conditions.
Gambling Advice & Strategy Articles
Check out our casino blog for all the tips, tricks and strategies you need to take your gameplay to the next level.
Gambling Advice & Strategy Articles
Check out our casino blog for all the tips, tricks and strategies you need to take your gameplay to the next level.