RIDING THE DRAFTKINGS ROCKET: AN INTRODUCTION TO A NEW KIND OF BETTING GAME
RIDING THE DRAFTKINGS ROCKET: AN INTRODUCTION TO A NEW KIND OF BETTING GAME
Are you ready for something new? Something different?
You're here because you want to play and because you want to be entertained while you bet, right? You want to have fun, maybe while doing something you've never done before or seen before or even heard of before, and the reality is that most casinos can't offer you that.
Here's the thing. This isn't most casinos.
DraftKings is in the entertainment business and dedicates huge resources to finding new ways to entertain people like you. It's what we do best and we're constantly looking for that next new thing. This article is about just that. It's about Rocket, a new game. A new kind of game. A kind of game you're going to be seeing a whole lot of in the future. We'd compare it to other games, but in the casino world, there's really nothing like it.
Intrigued? Ready? Read on.
What Is Rocket?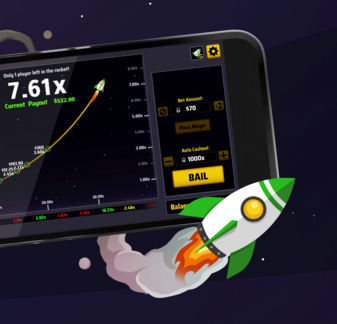 Rocket is a game in which the rocket is the game. Created by DraftKings' in-house game development/design team, Rocket is the first game DraftKings has released using ExitBet, a new technology that explores entertainment-based gaming with a strong return-to-player (97% in Rocket's case), using strong communal themes to add to the fun. Let us explain.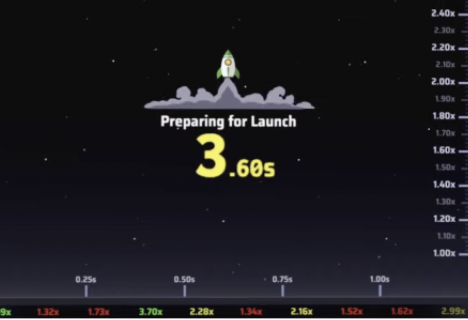 A game of Rocket starts with anyone in the game room staring at an appropriately-themed countdown clock and a rocket. Each potential player must decide if and how much to bet before the countdown reaches zero; when it does, betting freezes and the rocket launches. What you've just bet upon is how long the rocket will stay aloft once—if—it lifts off, and how long you'll stay on board.
That "if" is important, because very occasionally, the rocket can fail to launch and cause all players to lose their wagers, ending the game. That's when the real fun begins, because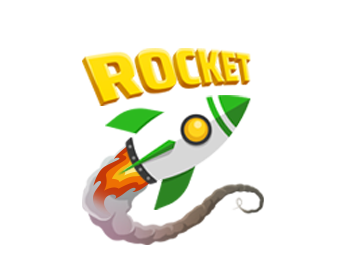 the longer you hold on, the larger the multiplier on your winnings gets. Bail before the rocket stops rising and you get paid the multiplier you bailed on. If the rocket stops rising while you're still on? At least you'll have a good story to tell. If you're still not quite getting the full picture, have a look at the how-to video we put up here.
It's real white-knuckle stuff and we think you'll love it for the same reason people love roller coasters and horror films, except Rocket's thrill is magnified by the personal stake you have in the game.
Playing Together
As fun as Rocket is as a solo activity, it's better than that. As the game plays out, you'll see the names and winnings of other DraftKings players as they depart the rocket, giving you an extra rooting interest. Even if you bail at 2x or 3x, you'll get to watch as some daredevils hang on for dear life in the hopes of making huge scores. If they hang on too long? That's not your problem and you'll have had a good time wondering if they were pushing it too far.
How Rocket Makes DraftKings Different
While Rocket is awesome in a vacuum, it also represents some greater truths about DraftKings Casino and the direction we're heading.
With this launch of ExitBet, Rocket is the point of departure, not the destination. We are confident enough in Rocket to bring it to you. And that means we believe enough in the technology to continue exploring new games, themes, and ways we can give you the new entertainment experiences you're looking for. As an example, you can expect to see seasonal touches in the game in the future.
In an industry that's not exactly known for its rapid evolution, DraftKings Casino is different—and is putting tremendous resources into finding new ways to create variety for you. Part of the inspiration for ExitBet is understanding that sensory experiences like this one provide thrills that other experiences can't. You can expect us to keep growing in ways that sets us apart from other casinos. And we will always have something new for you to try.
Is Rocket the Game for You?
The easy answer here is "we don't know, but there's a fun way to find out." We're learning about this new technology at the same time you are, but we're confident Rocket is a great start. This game has the adrenal thrill of keno, baccarat, or casino war, and the strategy of blackjack or craps, with the bonus of being something new. In the end, you've got to play to find out if it's for you. We're betting it is. Enjoy the ride; it's only the beginning.
Gambling Advice & Strategy Articles
Check out our casino blog for all the tips, tricks and strategies you need to take your gameplay to the next level.
Gambling Advice & Strategy Articles
Check out our casino blog for all the tips, tricks and strategies you need to take your gameplay to the next level.